SPACE factory

【SPACE factory opening date postponed】
SPACE factory, scheduled to open on March 19th, 2021 (Friday), will temporarily delay its grand opening due to the spread of COVID-19.
Please stay tuned for new announcements regarding the opening date.
Introducing "SPACE Factory", a newly opened area in collaboration with Taisho Pharmaceutical that sits inside the hands-on experiential park "Good Job Attractions". The area is themed after energy drink "LIPOVITAN D".
In another tip of the hat to space exploration, LIPOVITAN D offers one-of-a-kind, interactive experiences designed to help kids discover and learn more about space.
There are also workshops to try every day.
Lipovitan Rocket☆Luna
Make your own LIPOVITAN D and send an energy boost to space!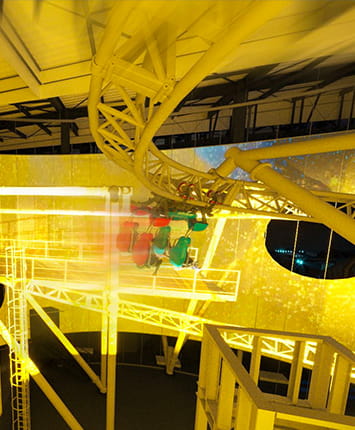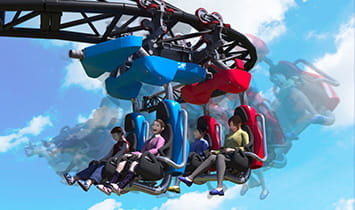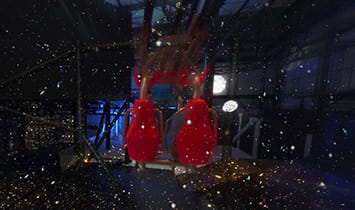 A fantasy ride through the LIPOVITAN D factory floor, space and beyond. Join Lipovitan-man to make your own LIPOVITAN D capsules, then prepare to launch in a rocket to space! Your mission is to deliver an extra energy boost to Lipovitan-Girl who works at the factory on the moon. There are side missions during the game that change the outcome of your personal adventure. Defeat the tiredness monsters, or "dullies" on a quest to save Lipovitan Girl!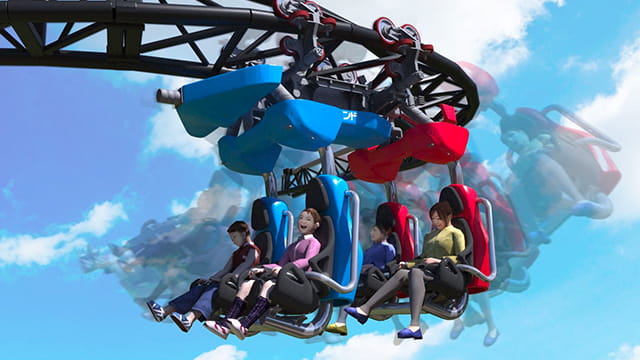 | | |
| --- | --- |
| Fare | TBD |
| Ages | TBD |
| Seats | 4 people per car |
| Distance (Total lenth) | 550m |
| Highest point reached | 15.5m |
| Duration | approx. 2 min |
| Fastest Speed | 38.9km/h |
※ Fares and terms of use will be announced once determined.
Fight Ippatsu!
A Refreshing Ride that's BURSTING with Fun!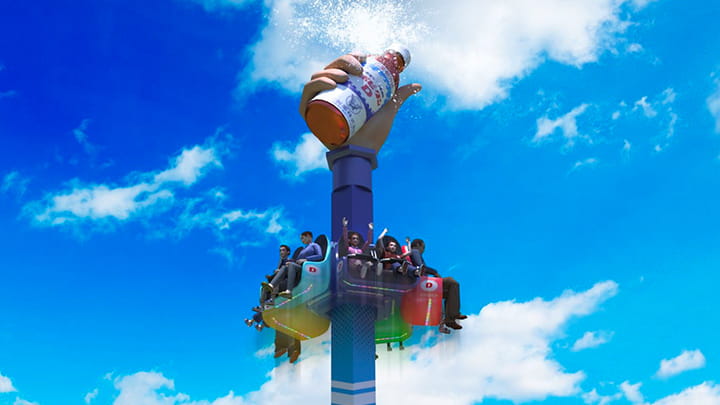 Ride up and down (like a pogo stick!) while the seats rotate around. This family-friendly ride is packed with fun for kids and big kids (adults) alike!
When you hear the famous catchphrase, "Fight Ippatsu!" (eng. "knock out!"), you know its time for the grand finale, as a burst of water* explodes from the bottle top.
*Please note the water burst may not occur at all times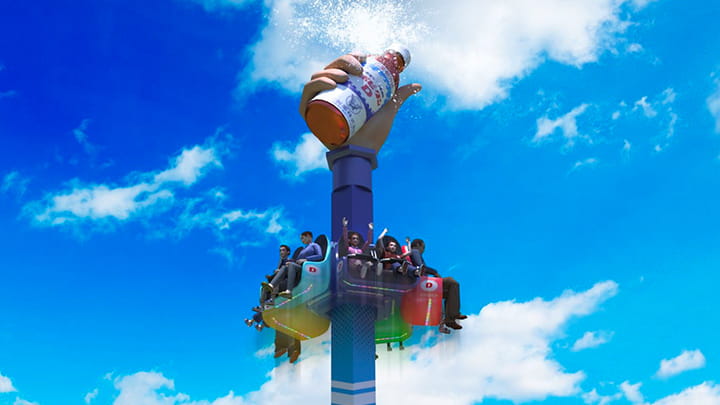 | | |
| --- | --- |
| Fare | TBD |
| Ages | TBD |
| Seats | 10 (5 two-person seats) |
| Height | approx. 12 meters. |
| Duration | approx. 70 seconds |
※ Fares and terms of use will be announced once determined.
LIPOVITAN D
designated quasi-drug
energy drink.
Lipovitan Lab
Professor Lipo and the Secret Research
A simulated workshop in making medicine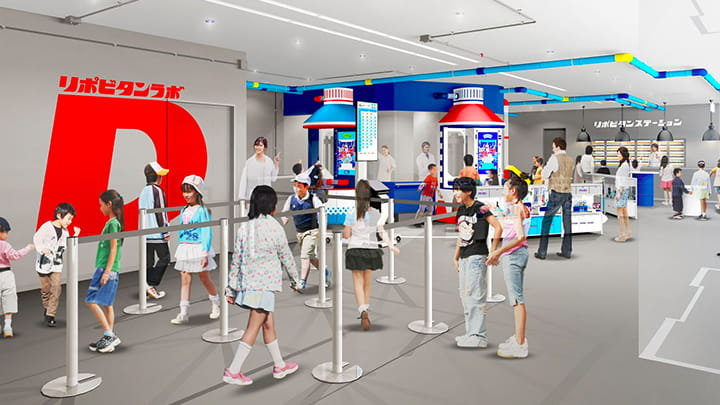 A simulated medicine-making experience.
Use a real tablet machine and try making ramune "capsule" candies that look like real medicine pills.
Within the overall story, this scene takes place at the point where Professor Lipo has just developed a powdered version of "Ra Muune D" at his laboratory on the moon.
Back on earth, Ra Muune D is produced at the lab to help spread energy to people. The oversized capsules are actually 5cm in diameter! In this workshop you'll make one of two different kinds: the LIPOVITAN D flavored Ra Muune D, or an extra-special flavored Ra Muune D.
To find out which one, you'll have to try it for yourself! Spend a fun-filled time becoming a scientist for a day!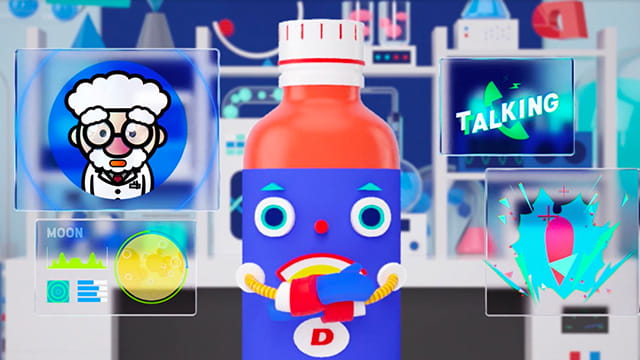 ※ Prof. Lipo from the Moon Factory (left) and Da-John the Pill Capsule Machine (center)
※ Fares and terms of use will be announced once determined.
More About LipoD SPACE PROJECT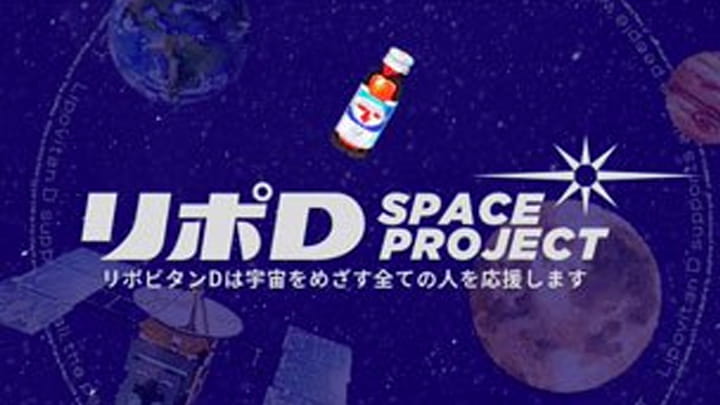 LIPOVITAN D is for all the people out there who chase their dreams.
From the Hayabusa2 space probe and beyond, this project gives future astronauts an extra boost to keep shooting for the stars.
The opening of "SPACE factory" is part of this same project.
LIPOVITAN D
designated quasi-drug
energy drink.
We Recommend the One-Day Pass for Enjoying "Goodjoba!!" to the Fullest!
Most of the attractions in "Goodjoba!!" are eligible for use with the One-Day Pass.
If you purchase the Yomiuriland One-Day Pass, it covers the admission fee and you gain access to unlimited rides within the amusement park, including those in "Goodjoba!!," making it a great value!
Prices
One-Day Pass
Admission + all-you-can-ride
Adults(Age 18-64)
5,800 JPY
Middle and high school students(Age 12-17)
4,600 JPY
Children(age 6-11)
Senior citizens(age 65 and up)
4,000 JPY
Preschoolers(Age 3-5)
2,400 JPY